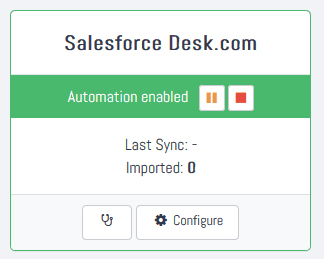 Desk.com is a helpdesk solution for small business in the famous Salesforce ecosystem. We're happy to announce that it's now possible to connect Callexa Feedback to your Desk.com Helpdesk. Let Callexa automatically survey your customers when a ticket has been resolved.
All replies to the survey will be synced back to the Desk.com customer entry. Set it up once and automatically get valuable feedback on your customer service quality.
We offer a permanently free account with up to 50 surveys per month.
If you haven't already, register your free Callexa account now.
Follow our integration guide and set up the automation for Desk.com in 6 easy steps:
https://feedback.callexa.com/kb/integrations/using-the-salesforce-deskcom-integration